Monday, July 26 2021, 07:54:11
From A Star Anchor To A Doting Mother And Wife To Battling Male-Dominance, Gitikka Tells It All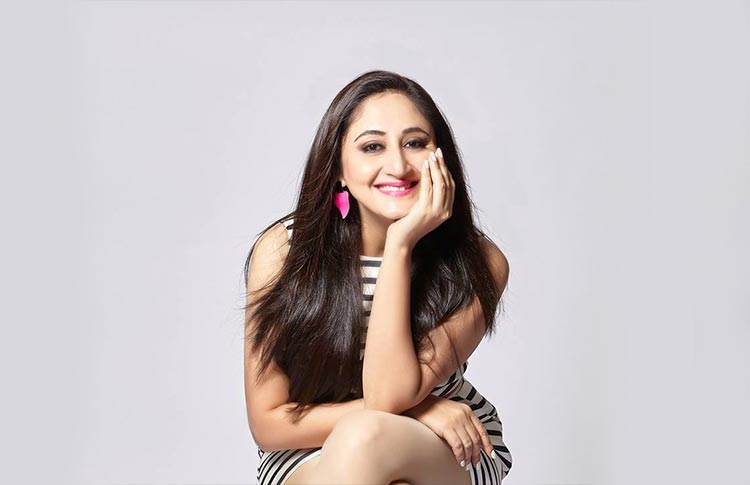 "A working woman can't manage her family and her work at the same time"- a mentality that even the most progressive minds become a victim of. Call it patriarchy or just male ego (as my mother puts it) whatever it is, women have time and again demonstrated how weak the foundation of the theory is. And it is women like Gitikka Ganju Dhar who lend meaning to Women's Day.
Anchor, moderator, writer, style icon, best mommy and loving wife- Gitikka had rightfully attained each title. She has hosted more than three thousand events and 20+ live TV shows and yet enjoys a blessed life with her family- a feat considered impossible for a working woman by the sanskaari folks of our society.
Last we talked with Gitikka, she was basking in the glory of being named as the Best Anchor Female India at the EEMAX Spotlight Awards, presented by EEMA. On the eve of Women's Day, we sought an insightful conversation with women whose life journey have left milestones for us to be inspired by. And as someone acing the world of anchoring, Gitikka fits the bill perfectly as she talks to us about her success mantra, how she fits her family in her busy schedule and overcoming the male-dominating mentality out there. Excerpts:
Well, as we have talked earlier, I am already aware of the back-to-back events you host. Where does your family fit into this hectic schedule of yours?
Right next to me. You know, I have a rule in place that only a set number of days are for anchoring events, rest are for my family.
And after this set limit is up, no matter how interesting the event is I won't take it up. I know every section of my life needs my attention or it won't be balanced anymore and will just topple over.
82 Likes, 2 Comments – Gitikka Ganju Dhar (@gitikkaganjudharofficial) on Instagram: "Ok, ok..! It was Giaa's b'day party. We paid for the props, might as well be high-nosed about it!…"
70 Likes, 2 Comments – Gitikka Ganju Dhar (@gitikkaganjudharofficial) on Instagram: "When your baby grows into your friend Looking forward to being young again.. With you, in a few…"
I drop and pick my daughter to and from her classes, I am there for her when she needs and even when she doesn't. A working woman isn't necessarily a careless mother or an irresponsible wife, it's all a matter of how she balances it all and if her family is ready to support her dreams with their belief. Mine does, so here I am!

Gitikka Ganju Dhar was roped in by Wizcraft International Entertainment to host the Magnetic Maharashtra Convergence 2018 Global Investors Summit Protocol Opening Ceremony on the 18th of February, 2018 in Mumbai at the MMRDA Grounds, BKC. The event was graced by Prime Minister Narendra Modi and the Chief Minister of Maharashtra, Devendra Fadnavis. Prominent Union Ministers, including Nitin Gadkari and State Secretary, Sweden Karin Roding also attended the Opening Ceremony.
The event saw the stalwarts of the global business world and the leaders of industries in India attend the event. Sir Richard Branson, Ratan Tata, Mukesh Ambani, Anand Mahindra, Edward Monser, Baba Kalyani, Hyun-Joon Cho and many more such trailblazers attended the event that saw a packed audience of thousands of attendees.
Events like Magnetic Maharashtra are mostly male -dominated, from the organizers to the audience. So, how do you manage to make sure that your creativity and voice is not suppressed?
Apeksha, firstly, now I rarely face such dominance because the client believes in my expertise and 18 years of work in the field of anchoring. He trusts my judgement and the creative suggestions I put on to the table. In case there is a client who is trying to overshadow my talents and abilities, then there is always the agency through which we came into contact in the first place. I can never continue working knowing that my creativity is being inhibited.
60 Likes, 1 Comments – Gitikka Ganju Dhar (@gitikkaganjudharofficial) on Instagram: "#Repost @vivek_lightart (@get_repost) ・・・ When it's a performance meant for more than just…"
But many times it has happened that a co-anchor, feels a little less confident as he comes unprepared, to share a stage with a woman who matched his skills. The agency contacts me, requesting to tone down my skills on-stage but all I answer in response is a smile with the conviction that I won't compromise with my talent.
35 Likes, 2 Comments – Gitikka Ganju Dhar (@gitikkaganjudharofficial) on Instagram: ""#UnionMinister #NitinGadKari @nitingadkari conversed for almost an hour with the audience and…"
Gitikka was also recently seen hosting the cultural evening at the ASEAN-India Commemorative Summit 2018 in Delhi, an event that was graced by the Prime Minister of India and several Heads of States from across ASEAN nations. She is rapidly being viewed as India's preferred anchor for content-based conferences and government events that involve the presence of Heads of State, Presidents, and Prime Ministers.
In the past she has played host at Make In India, Swatch Bharat Abhiyaan, BRICS Parliamentarians Summit and many more such prestigious government-led events.
Well, while you overcome these difficulties, what is your advice to other women in this field who face this discrimination on a daily basis?
The only way to battle this is to be very good at what you do. If you are perfectly delivering what is expected of you professionally, the major fort that this discrimination feeds on automatically gets thrown out of the window. Do what you are doing so well, that no one can replace you. Up your game, up your work quality and see as everything falls into place.
And if it doesn't?
Well, I would say if that doesn't work, then your employer isn't worthy of accepting real talent. It may sound as if I am being too sure of myself now but trust me, it is better to leave the place where your imagination, your creativity, your abilities are being suppressed. Facing difficulties in your work life is one thing but to be unable to fly in the career of you worked so hard for… not negotiable!
57 Likes, 4 Comments – Gitikka Ganju Dhar (@gitikkaganjudharofficial) on Instagram: "#Repost @lalwanishweta (@get_repost) ・・・ Gitikka Ganju Dhar, You are an epitome of beauty, wisdom,…"
A First Awardee of Live Quotient Awards Best Anchor India, she has been honored with the Bharat Nirman Award for her contribution to the field of anchoring in India. She has been awarded the first Best Anchor India Female at EEMAX Spotlight Awards 2017 and  Best Emcee Award India by Business World BW Applause Awards 2017, taking her total tally of Best Anchor awards to four!
I have always noticed one common thing during every event- the frenzy! People barking orders, running around- do you ever have to handle such crazy moments?
All the time, Apeksha! But I have to say, over the years I have developed this calmness courtesy of the repetitive experiences of such insane moments. As the client comes to you in a complete hyper-mode, he goes like 'Oh my god! Oh my god! What are we gonna do?" His nervousness is so infectious that it tends to rub off on you too. So, to handle their antics AND the event, this special edition of 'calmness' is super necessary.
So, not even the last minute challenges deter your confidence?
Nope, because I always do my homework. I have practised and re-practised the show in my house, in my studio, in my head, again and again. So, I am well-versed in the what, where, when and how of the challenges to come.
Hmm, sounds like a preparation ritual to me. Is it something that you do every time and it works wonders for you?
As I said, revision is my buddy here, so I report hours ago to the location where the event is due to start and start practising there. And by the time the show starts, I am already very comfortable with every nook and cranny of the location because I have literally taken in the atmosphere of the show and already imagined the electric energy the audience would exude.
My other, strictly followed, mantra is to be well-versed in the topic of the event. Like if the theme of the event is digital changes in the industry, then I'll make sure that I am very comfortable with the topic. So, when I am on stage and I start speaking on the topic it shouldn't feel like I don't know what I am talking about.
Was this article empowering?