Sunday, May 28 2023, 07:13:26
Falguni & Shane's Sheesh Mahal Collection Narrates The Royal Love Story From Jaipur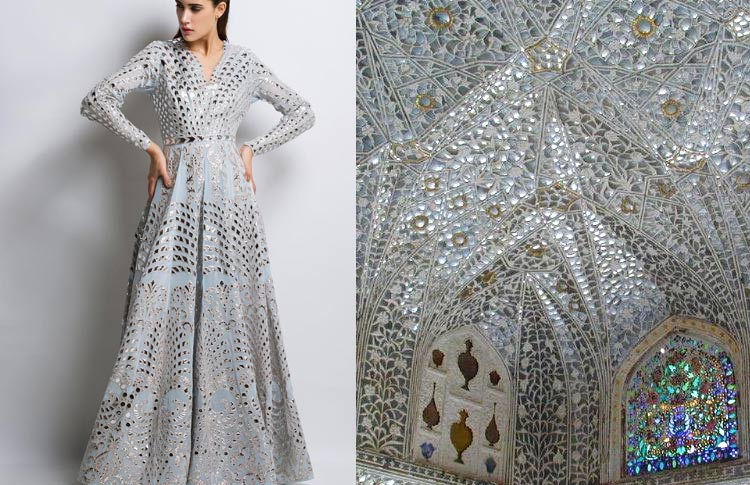 Every year Sheesh Mahal of Jai Mandir, Amer Fort, Jaipur attracts thousands of tourists from around the world with its rich history and craftsmanship.
The opulent glass hall which was built in 1727 has a romantic history behind it. The queen of Jaipur was fond of sleeping under the sky and watch stars but due to security reasons, she couldn't sleep in an open space. To fulfill her wish Maharaja Raja Man Singh built the hall so that the queen could see thousands of stars with a single flash of light.
Keeping the romanticism and the intricate art of the hall, ace designers Falguni & Shane Peacock recreated Sheesh Mahal in their new collection. The designers in an interview said, "The idea is that she is basically Persian, lost in Jaipur in the Sheesh Mahal, and she becomes a bride there and that is how she styles herself."
We're swoon over the collection's intricate details which matches the modern aesthetics as well. "Traditional yet contemporary is the prevalent theme inspired by the Sheesh Mahal. While staying connected to our roots, we constantly strive to modernize and narrate our design story," said the designers.


The collection is diverse and crafted to serve the sartorial needs of the entire wedding family, especially the bridal entourage.
"The collection features a wide variety of silhouettes like voluminous and slim fit floor scraping gowns, dresses, bridal wear, sarees and lehengas, anarkalis, skirts, crops, salwar suits, etc. The diaphanous gowns with high-low hemlines and high slits are delicately embroidered in varying degrees and flattering forms with intricate applique work."

"Intricate work remains the main feature of the collection with elaborate motifs and prints inspired by nature and royal architecture, embroidered with various sizes of Swarovski crystals and sequins," say the designers, and we couldn't agree more.
Was this article empowering?