Monday, November 30 2020, 07:58:04
Event MaahiRoj: Sonal Baid Of Aura Herbal Wear Tells JWB About Organic Clothing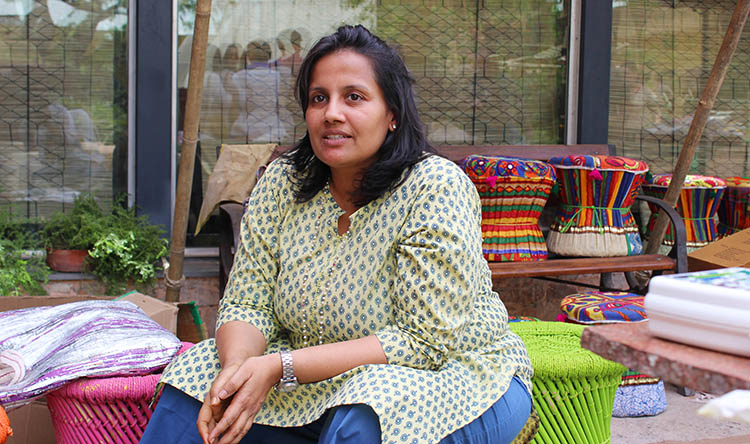 With their 4th edition of MaahiRoj, AnanTaya is also celebrating their 10 years of relationship with the Mother Nature. MaahiRoj literally translates to 'Earth Day Everyday'.
AnanTaya's Director Geetanjali Kasliwal spoke to us, "Commemorating the Earth Day that falls on 22 April; we've collaborated with like-minded artisans and designers who love to celebrate what nature has endowed upon humans. In this 10-day affair, people can come and join workshops taken up by artists from around the world. One can learn how to dye clothes naturally, cook organic food, etc. AnanTaya is eco-conscious and so is the ideology of MaahiRoj."

On 17th, Sonal Baid of Aura Herbal Wear demonstrated how we can extract natural colors from edible products and dye clothes with them. Later, this Jaipur prodigy took out some time to interact with JWB. Below are the excerpts:

The 'viola' moment
I have spent many summers in Jaipur as my father belongs to this city. Somewhere, that connection with traditional living was inculcated within me from an early age. Moreover, my school instilled sensitivity in me with projects like adopting a village and working for its betterment. I was a teacher, and my husband had his own business dealing with the recycling of textile waste. Though, gradually we stopped feeling content about the work thinking how harmful the textile companies are for the environment.


So, I quit my job, and my husband decided to put an end to his business. I always knew how to color-dye and print on clothes using natural methods, but I never took that seriously. When I told my husband about it, he asked me to get quickly going with the idea. Together, of course.

The next day, we began instantly. First, we made natural dyes using seeds and peels and items like turmeric, tamarind seeds, beetroot, pomegranate, flowers, etc. We witnessed how beautifully the colors came out in plain clothes, and that's when we decided we need to go ahead with this idea. That was 16 years back.


Convincing the artisans and finding a niche in the market
In the beginning, no artisans were ready to work with us. They thought we were going a step backward. Some said, 'What you're planning to create is not fashionable anymore,' while others said, 'These are old technologies, your business will be a disaster.'

A majority of them had already shifted to producing synthetic clothing. People were constantly discouraging us, but we were determined. Thank god, we didn't give up. Our motive wasn't to own a successful business but to renew the organic lifestyle. Imagine wearing a cloth that doesn't itch and has relatively less water consumption during its making!
Future

I am focusing on conducting frequent workshops and convert people's perception. The West is open to the idea of herbal wear, so why aren't we – the land that produces some of the major organic items?
You can follow more details of MaahiRoj here.
Was this article empowering?