Wednesday, September 27 2023, 09:46:39
Eco Entrepreneur Divya Shetty On How To Live A Zero-Waste Life And Join Her Organic Revolution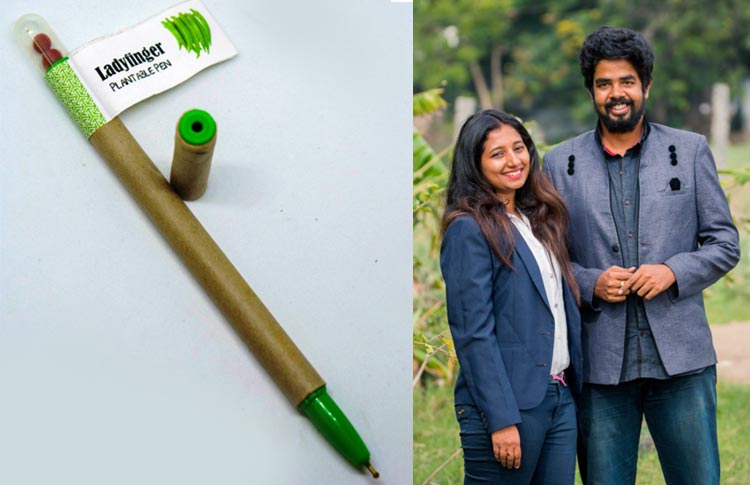 With a passion and vision of making the world an organic and eco-friendly place, Divya Shetty co-founded Indian Superheroes. She is working with over 843 marginalized tribal and rural farmers from Southern India to enable them to make low-cost value additions to agricultural produce.
Working with organic farmers made Divya realize that the widespread deforestation is one of the primary reasons behind severe droughts and floods that cause massive losses to farmers. Investigating the cause of deforestation gave birth to her second venture, Pepaa (previously Plantcil), sustainable stationery and packaging, with a single intent of curbing massive deforestation that impacts the environment and causes climate change.
With a focus on the current generation of Superheroes – the farmers, and the future generation of Superheroes – the kids, Divya hopes to bring about a silent, organic & eco-friendly revolution.
Excerpts:
How did you get the idea of making eco-friendly stationary?
While we were working with farmers, we realized that indiscriminate cutting of trees is the primary reason for the water crisis we are facing today – every year, 13 million hectares of forest cover is being lost to deforestation, that's almost the size of Haryana and Denmark. About 36% of deforestation is for paper manufacturing, and another portion is for the manufacturing of wood pencils. We thought, why not use recycled paper to make pencils and mitigate two evils at once?
Can be an eco-friendly pencil a solution to major climate problems?
These pencils are made from rolled-up newspapers, and 100% recycled used papers. We collect newspapers from schools and in exchange, provide them with a monthly supply of pencils – the kids absolutely love us! We have also partnered with the world's biggest brands and responsible individuals to collect paper based waste and convert them into sustainable stationery and packaging. Thereby we divert thousands of pounds of post-consumer waste from landfills and incinerators each month.
Moreover, the seed pencils have plant seeds embedded in them. We procure native seeds like chili, spinach, beans, tomatoes, and brinjal directly from our farmer network. You can plant your pencil and water it. Soon a new plant sprouts to life from it.

Are you the first in the market to do this?
No, there are a few players in China who manufacture paper pencils, but the quality of the pencils isn't great. Also, they still use low-micron 'plastic sleeves' to make the outer surface shiny, which defeats the purpose of going eco-friendly. We are the only company that provides such varieties and complete customization options to recycled paper pencils.
Tell us about how the market accepted this kind of a product.
The market has been very receptive, and the response has been fabulous, to say the least! The best part about our pencils is that both kids and adults are equally excited to try us out – and I think that means a lot.
Tell us about the problems you faced while starting up. How did you get investment for this?
Starting an enterprise that is fighting the industry giants of hundreds of years has been a challenge. Right from the offset, we were very clear that our vision for the company must not be put at stake in return for funding. Our long-term goal is to help accelerate the transition of 1 billion people from across the world to sustainability. To that end, we have scaled our company frugally using our wide network of NGOs and SHGs. We have been bootstrapped right from the time we started, and our company is self-sustainable. Our vision has been that one day, the entire world will use pencils made from recycled paper/agricultural waste, and stop the indiscriminate cutting of trees for pencils and papers.

Your office is a zero waste generator. How did you do that and what policies do you follow to generate no waste? 
We follow a strict zero-waste policy at the office. We don't give employees' access to new office supplies that easily. This makes people resourceful in reusing, as much as possible, what they have on hand. We have a "drop and shop" stationery cabinet that allows employees to drop and shop for used office supplies like binders, file folders, paper clips, rubber band, our own pencils, and pens. And, even our pencil shavings – we save that and use it for craft work, or send it back for recycling! We use only recycled paper for taking printouts and shipping labels. We even reuse boxes and packing paper from the incoming packages and use it for our outgoing packages.
What are some ways in which we can reduce waste in our daily lives?
Carry your own shopping bag.
Carry a reusable water bottle.
We can pack our lunch in good old tiffin box style – reusable containers.
Say no to disposable straws and spoons – learn to drink coconut water without the straw – true village style – it will be brilliant.
Don't opt for packaged food as much as possible – take a break, slow down and dine in.
Stop using plastic garbage bags for dustbins; instead, make use of newspapers.
What ways do you suggest to avoid food waste at large scale setups like restaurants?
A couple of things – one, food that is unused at parties and events must be taken up by organizations that can then supply it to poor people – quite a few social enterprises are doing this. Second, what comes from the soil must go back to the soil. We must collect all the food/kitchen waste from the restaurants and use it for composting. We can grow organic vegetables utilizing this manure and supply them back to the hotels in exchange.

Are you associated with any of the NGOs that are working for similar causes?
We are associated with over 20 NGOs that are working with such causes. Environmental awareness is essential, and we cannot create a lasting impact without collaboration. We are working towards getting a few more NGOs on board to join our eco-friendly mission. Also, we supply tree saplings, pens and pencils to various NGOs that work with schools directly.
What are some of the ways that we as an ordinary citizen can follow to fight global warming?
Follow the three R rule: Reduce – Reduce the amount of garbage generated. Alter our lifestyle so that minimum garbage is produced. Reuse – Reuse everything to its maximum and find secondary uses for different articles. Recycle – Keep things that can be recycled to be given to waste pickers or Pepaa (collect the newspapers to recycle). Convert the recyclable garbage into manure or other useful products. Plant more trees in your community and make sure they grow.
What does your team currently look like? 
We have a team of over 100 people – employees, women SHGs, NGO networks and micro-business owners working with us. The kids absolutely adore us! So much so that we have formed the Superheroes Green Army (SUGA) group. It enables these kids to learn exciting art and craftwork from used papers, plant trees (using saplings provided by our farmers), and grow their own crops in their own school backyard, through an app, FarmZeal.
Protecting the green cover is the need of the hour, and since we work with the current generation Superheroes (farmers) and the future Superheroes (kids), we truly love what we are doing – the next major focus would be to expand to other cities, and make it a pan-India movement.  The journey is interesting and immensely satisfying, and we are only getting started!

If you could go back in time what is the one product or discovery that you would wipe out from the face of the earth to prevent pollution or climatic changes?
I'd wipe out the plastic. Plastic pollution is a global emergency parallel to climate change.
Lastly, one message you want to give to our readers irrespective of whether they follow eco-friendly practices or not.
Make this world a better place for future generations, instead of dreaming of a one-way escape ticket to Mars.
Was this article empowering?