Monday, March 01 2021, 10:03:43
Dr. Parasuram Ramamoorthy Enacts The Healing Power Of Theater For Children With Autism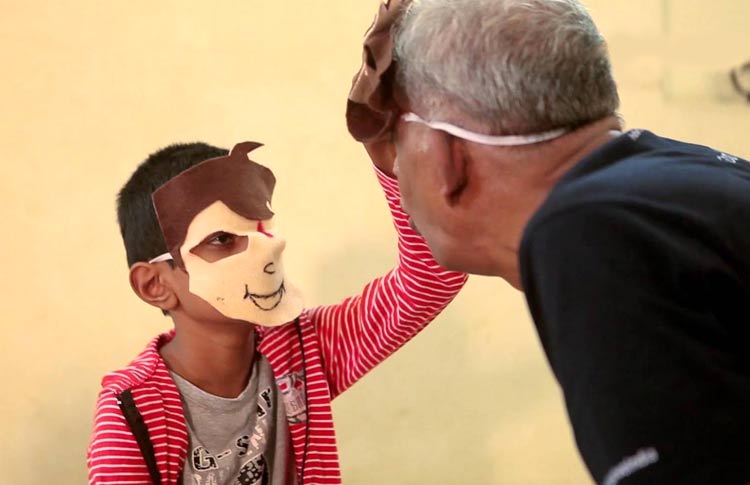 Are you one of those who plugs in their earphones and all the complexities in the world fade away?
If you are, then you've successfully been healed by art. It isn't a new concept and exists within all of us, subconsciously. Ah, only if we could bring it to the forefront. At least, someone could. Did you know there exist programs that heal through arts/theater/music/dance? My attention, though, is fixed on Velvi Theatre Heals.
The platform offers all of the above to children with an Autism Spectrum Disorder. Their workshops for Drama for Autism are changing lives all around the world.
Velvi signifies a journey within oneself, and an act of purification for the welfare of humanity. More than 5000 children have benefitted from this theater.
Dr. Parasuram Ramamoorthy, the Founder, tells us how art and autism combine in Velvi Theatre Heals. Excerpts from a chat:
Is there any special story behind this idea?
I was pursuing my Ph.D. and it was related to drama therapy. I worked with people in prison with mental issues and dealt with aspects related to drama therapy. One day I did a casual workshop for a group of children. There was a child who refused to participate. Later I found out that he had autism. The incident touched me deeply. It was 2003, and since then, there is no turning back.
How would you describe Drama therapy?
Drama therapy is a conscious and intentional use of drama and drama techniques to a specific problem. There are various elements of drama therapy. I have written a lot about it on www.academia.edu.
Share a story where a student's life changed after being a part of your workshop?
There are a lot of such students! The video produced by Our Better World showcased stories of our children and received the best story award. Many newspapers have also covered success tales of our students. It makes me proud.
Professor Parasuram Ramamoorthi uses a drama technique to engage children with autism in India. "I was working with a child and his mother, using a theatre mask. Suddenly, the mother started crying. I went up to her and asked what happened. 'My son is 8 years old and all these years he had never looked at my face.
We would love to know one of the most mesmerizing experiences from your theater workshop!
If I had to dig through my many experiences, I think, a prominent one would be the Chennai Workshop. We gave our children various masks and let them create their own stories. It improves their concentration.
There was one child, who chose to go poetic along the way. You will find that many scientists, neurologists do not believe that children with Autism can hold the imagination flow. Their theories have been disapproved by our children. Now we have more than 200 children with Autism writing poetry.
What kind of poetry did that child create?
We gave children images of trees and stars. In his poem, he placed the trees playing with the stars. The trees were literally uplifted and dangling with stars. This is the level of imagination that a child with Autism can reach up to.
Do their parents accompany them to your workshops?
Yes! At the beginning of the workshops, we have a lot of parents working with us. We get to know their children better through them. They help us with establishing dialogues with the children. But after a certain age, we try to create a distance amongst them. Children should learn to be independent. It is very important.

Throughout the seminar, the parents participate in various activities and during our annual festival. During this festival, we have separate sessions for parents.
Tell us something more about this festival?
Every year we have our festival, where children and parents participate. There is dancing, music, and other fun activities. We also have sessions on preparing for jobs and techniques for dating. Our children should know how to interact with the opposite sex.
You are a theater specialist. What is your current progression as a theater artist?
Theatre for me is only for children and their workshops. I have given up on all other things. It has been almost 10 years since I worked on my last theater performance. There are a lot of things to be done for children. I have dedicated my entire time to them.

Dr. Parasuram signed off by reminding all adults that every child has different abilities, it's just their talents that need to be discovered.
This article was first published on November 14, 2017.
Was this article empowering?