Thursday, January 28 2021, 04:53:59
Diary 6: Lehar of Small Courtesies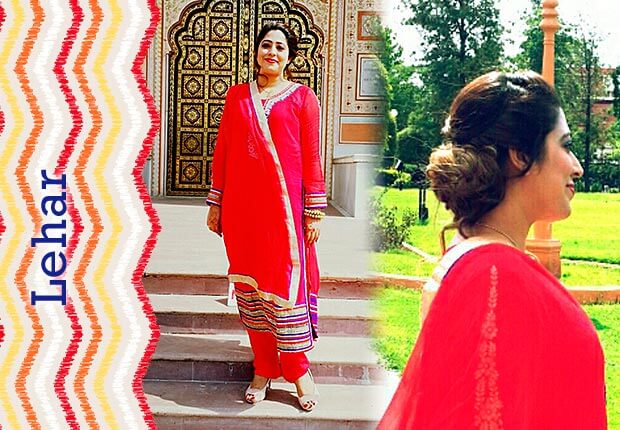 Shweta's daily dairies are creating the ripple effect in the campaign 'Lehar', helping readers break the monotony of life. One of Shweta's friends wrote – "I loved reading all the 5 diaries. I gave so much power and strength to me and am sure to other people also. Proud of you Shweta! Way to go….stay in high spirits and live it up."
Femina Lifestyle presented Shweta with a summer red Salwaar-kameez for this day. Style n Scissors did her brilliant makeup and hair. We are still drooling over this look. Following is her diary she wrote last night. Have a read….
"Amidst the roller-coaster time I am having this week while bringing so many fresh changes & brand new fresh looks. One day I decided to take up a practice which I hold very dear to my heart. I decided to consciously engage into it wholeheartedly & feel the effects. It revolves around slowing down a bit, absorb, observe our surroundings & people and stay in tune with life energy all around us.

'Extending small courtesies' is what I incorporated in my day consciously & it gave me immense happiness & contentment. I know whenever someone talks about it, the general response is a roll of eyes. And yeah, we know all about it but reality shows us the stark gap between knowing & practicing it. Reality is that in the rigmarole of our daily schedules & crazy lives, we often miss doing those small little things which mean so much. The extent of this behavior is so deep that it is considered normal & no one ever notices the difference!

Holding the door open for someone, thanking people, listening intently to a person who is trying to get a point across, smiling at a stranger or hurriedly passing-by acquaintances, engaging a kid in playful conversation, holding eye contact with dear ones while conversing instead of staring at TV, using intuition to read a mood & gauge anyone's issues & be empathetic…..the list is long. These are the simple things which I practice every day.

Today, I have engaged in a dialogue with a so-called rowdy gang of kids in my apartment's block who are not very liked by people around. They always run and push and would hop into the elevator even before the people inside come out. I struck up a conversation with them & learnt their names & ages. I talked about how I loved watching football, told them that Messi is still my favorite. Voila! I struck a chord with them. In few moments, they started sharing their own favorites. During the conversation, I got to know that these kids don't have enough space to play in the colony. I fully empathized with them. I crumpled my nose – & we all laughed together. At the end, I mildly educated them of the elevator etiquettes, & they all said they will take care! It worked & I made those little 'naughty' kids my new friends.

Later in the evening, I had a chat with my maid. I patiently heard all her stories and nodded every now and then. I gave her my inputs on topics I could speak on. God, and she made me this brilliant tea after that.

Ah, the dressing part is always my favorite. In the high heels and that beautiful red salwaar-kameez by Femina Lifestyle, I went to Style n Scissors where they did my beautiful makeup. The red pout was my favorite from the evening. I observed one thing at Style n Scissors that the staff never compromises on quality service. I made it a point to report this feedback to its owner & it elicited such warm & joyous smiles on the faces of 2 girls who do my makeup and hair daily. I asked their names – Sapna & Poonam – magical staff, I say.


I cannot stop writing about those many small things but I am already sleepy. The smile on my lips is the result of all the small deeds I did today. All this is not a new task for me. So today I determine to keep continuing these acts that make me happy and spread it around. I wish to sleep every night smiling. I promise to thank everyone who is of some help to me. I would daily wave my neighbors.  I wouldn't wait for the other person to smile; rather I will greet him/her first.

The world is always ready to embrace you, but are you ready to accept it? It's you who has to be conscious & realize its beauty. Be grateful for you have so many things and people for you.

Good night the 'Grateful me'
Was this article empowering?