Saturday, September 19 2020, 02:23:46
Corporate-Turned-Artist Snehal Patil Lets You Find Your Inner Creator At Her Painting Parties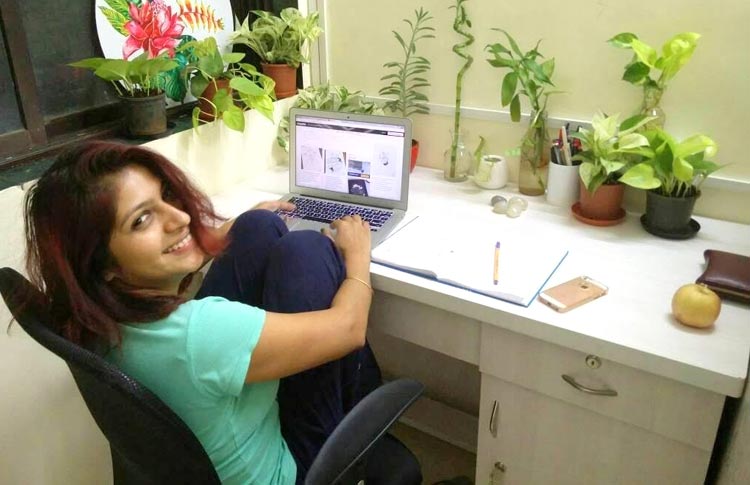 Since childhood, Snehal Patil has been an extracurricular person – a champ in basketball, learned kathak,  practiced various art forms, did theatre, a couple of short films, and studied architecture.
"As a child, I drew but didn't enjoy so much. I was totally into all extracurricular activities. But art has always fascinated me. At a very early age, I learned to blend things, to make shades, and participated in a lot of inter-school competitions," says Snehal.
Born and brought up in Nasik, it was the architecture job that brought her to Mumbai. After working in the corporate field for years, Snehal finally decided to take her love for art forward. The choice wasn't easy but she took the leap and started Bombay Drawing Room in 2015. It arranges art meet-ups at prominent eateries across Mumbai, where Mumbaikars join the paint party as they paint while they take a sip and have a bite.
We indulged in a conversation with the entrepreneur and asked her more about it. Read excerpts from our conversation:
Was the decision to transit from a 9-5 job to a full-time artist easy?
The decision to make a 360 degrees transition was one of the most difficult decisions. Having given many years to real estate, changing the path was scary & uncertain.I had worked for Omkar, Godrej properties & Kalpataru before and had a good career trajectory got success & stability even satisfaction at occasions in the job but I was looking for impacting the community & creative fulfillment.
Oh! How did you take the leap?
I really wanted to but wasn't sure, there was fear of failure. The only reason I was able to take the step was because of my husband Kunal Bansal.  He has been my rock solid support, he made sure that I quit the job at the right time for the right reasons to continue with my passion.
So, were you active in painting while working as well?
Not really. In fact, I picked up the brush after a long time to make paintings for my then-boyfriend-now-husband – Kunal, as his birthday gift.
Aww!
So, how did you manage to fund for Bombay Drawing Room? Any tips for our entrepreneur readers?
I had some savings, Kunal had some, and till date, it's funded by our savings & the revenues. The tip is to seek help & support from others when you need it. It's ok to ask help. Being independent for a long, long time in my life, I found it so difficult to ask for help from family & friends. That came in the way, still does in my growth. So, really, it's completely ok to seek help.
Indeed. Give us a peek into the Bombay Drawing Room (BDR) sessions.
We set it up in a way that the eatery looks like a studio, so when people come in they feel like artists. There is an artist to guide. So, it's like coaching where you just help and not teach. The environment is light, happy and there is no sign of competition and it's totally judgement-free. Eat, drink, spend your day as planned with the artistic vibe kicked in.

So cool! So, how do you decide the theme for the painting for your event?
We do a lot of research on people's interest, what's trending, and we basically try to bring all kinds of art, from oldest to latest.
Your team?
We're a team of 20 super motivated artists. Most of them are self-taught, have art as a passion & derive joy from making people paint. We don't have entry barriers with 'artist' background or training as criteria.
Tell us about the youngest and oldest visitor that you've had?
Youngest was a little girl aged six or seven and she paints quite well, haan. And you won't believe that the little one was a bit harsh on herself. She was stressing so much about making the painting perfect. But I'll tell you what I really like about kids is that they are so quick in decisions. They don't take a minute to change colours, and they so imaginative.
The oldest one was an old, romantic couple and who attended the tribute to Frida Kahlo workshop. It was an inspiration to see them, the way they were with each other. Lady painted very well, and he was a sport who came along. He in fact also changed Frida's gown colour and put mogras on her hair.
A love like this!
So sweet! That brings me to another question. We did see a lot of Frida Kahlo paintings on your Instagram. Tell us about this.
She is an icon for a modern woman artist. She has gone through a tough time, she was expressive, unapologetic. I want people to know about her. On her birthday, we gave a tribute to her. We read her poetry, talked about her, got to know her more.
81 Likes, 2 Comments – Bombay Drawing Room (@bombaydrawingroom) on Instagram: "We have the perfect plan to take your Monday blues away – come watch Salma Hayek starring "Frida"…"
I know I can use this platform to spread more knowledge about art.
And what about cherry blossoms? We see a lot of those too.  
The first painting that we made in the session was of Cherry Blossoms and it did very well. So, it does hold a special connection. I am very fond of Japanese culture and am so impressed with it too. And, when I like something, I keep pushing it and want people to do it as well.
53 Likes, 2 Comments – Bombay Drawing Room (@bombaydrawingroom) on Instagram: "Beautiful Japanese kawaii art painted at our workshop! #art #artist #japanese #kawaii #pink…"
Who is your role model as an artist and why?
It's Amrita Sher-Gil. Studying in Europe, she made a beautiful transition from european way of painting to the indian palette when she moved here. I find her very cool and she was way ahead of her time. The nuances of lives of women & peasants that she portrayed. So courageous, had strong controversial opinions with an open mind, she is an influential woman.
I also extremely adore the artist Van Gogh. I am so touched and also saddened by his life. A person who was tender yet tried to fit in. And a true genius. Picked up the brush at 28, lived for few years & yet he gave a new direction to world art.
Which artist do you follow on Instagram?
I like Sameer Kulavoor's work. The way he looks at things, experiments so much. He has a distinct style of his own, which I absolutely like.
What is your favorite stationery piece?
I like knives, the spatula knives with which you can create texture on a canvas. It makes the painting look lifelike.
86 Likes, 1 Comments – Bombay Drawing Room (@bombaydrawingroom) on Instagram: "Impasto is a technique used to paint and create textures on canvas. Register for our Impasto…"
One painting that reflects a chapter of your life.
Those paintings that I made for Kunal reflects the phase of my life where I extended myself to him. Those weren't about me but about him. I calibrated his individuality in the paintings.
As an artist, how do you see the following:
I would paint Mumbai as a multi-coloured fabric where everybody finds their own space. Showing the spirit of Bombay, that absorbs everybody and gives opportunities.
It'll be sunlight, garden view with flowers, and a clear sky.
I'll paint my relationship with my grandmother. She'll be the lotus in a pond who's been around for a long time, the centuries-old pond has gathered immense wisdom, absorbed so much and is a giver.
If your body would be a canvas, what would you paint?
I will paint as tribals. I love how they are comfortable with their bodies and paint them. They own their bodies.
What would be your advice for amateur, just-started artists?
It's all about attempting. This whole I-need-to-make-it-perfect notion is wrong. The notion of perfection is imaginary. It, in fact, only pulls you down to get it started.
What have you learned on this journey of transition?
That it's okay to fail. The fear of failure is big but it does hinder you from attempting something bigger.
This article was first published on Dec 28, 2017.
Was this article empowering?