Thursday, October 28 2021, 04:34:07
'Chokhri' Is Raising Awareness About Women's Sexuality Through Crowd-Sourced Stories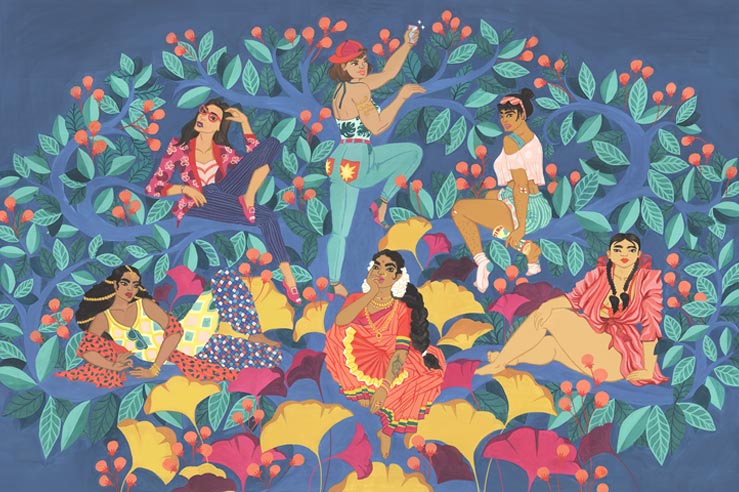 I remember my friend crying over the phone after a visit to her condescending gynaecologist who gave her an earful for having premarital sex and threatened to even raise the matter with her parents. My friend, by the way, was 25 when that happened.
Now imagine if that is how a qualified doctor reacts to the idea of an adult woman having sex how much worse it might get in a society where a woman is always either a saint or a sinner and never a normal human with basic rights and desires.
Living in a society where the idea of sex and sin go hand in hand, the mathematics gets pretty complicated and the weight of unspoken rules quiet heavy. In fact, the entire idea of sex is marred by so big a taboo that topics like women's sexual health and unwanted pregnancies hardly see the light of the day. The idea of sex and pleasure as choices is downright revolting and the thought that a woman can have sex just for pleasure in an assault on the society which has minds as open as traps.
Chokhri is an online platform that is on a mission to address this issue by "Data collection and crowdsourced stories on sexual health, rape, assault and workplace harassment."
"Chokhri is a singular effort to create a mosaic of women's experiences; to amplify our voices, enhance agency, and attempt to quash the current feminist rhetoric. We want to crowdsource stories and resources from a vast interconnected network of women and their experiences," says the Who we are section of their website.
They have initiated the movement because they are of the belief that our ecosystem today "is in violation of our most basic rights, further magnified by a lack of resources and education, and the inability to talk about taboo topics."
They strongly assert that "to treat sex as anything less than necessary, healthy, and a talking point is to do a disservice to women and society."
"Let's heighten public consciousness and amplify our voices. Chokhris for collective advocacy," they say and we stand by them.
Chokhri has been posting videos of real women on Instagram where they raise their concerns, express their desires and basically talk about all things sex.
Here are some of the videos that would reassure you that you are not the only one struggling with your sexual health, the lack of information around it, pesky gynaecologists, contraception and unwanted pregnancies:
42 Likes, 1 Comments – Chokhri (@chokhritalks) on Instagram: "Our next question and our most favourite one yet. Where did you learn about the female orgasm and…"
39 Likes, 2 Comments – Chokhri (@chokhritalks) on Instagram: "A survey conducted in 2007 by the Ministry of Health and Family Welfare suggests that only 22.9% of…"
41 Likes, 2 Comments – Chokhri (@chokhritalks) on Instagram: "May, 2017: the Supreme Court of India denied a medical termination of pregnancy (MTP) to Z., a…"
715 Likes, 8 Comments – Chokhri (@chokhritalks) on Instagram: "Medical termination of pregnancy (MTP) has been legal in India under certain conditions since the…"
1,275 Likes, 24 Comments – Chokhri (@chokhritalks) on Instagram: "India was the first country in the world to have launched a National Programme for Family Planning…"
Was this article empowering?