Thursday, October 28 2021, 04:44:16
Children Aren't A Hindrance For This Young Indian Couple's Romantic Getaways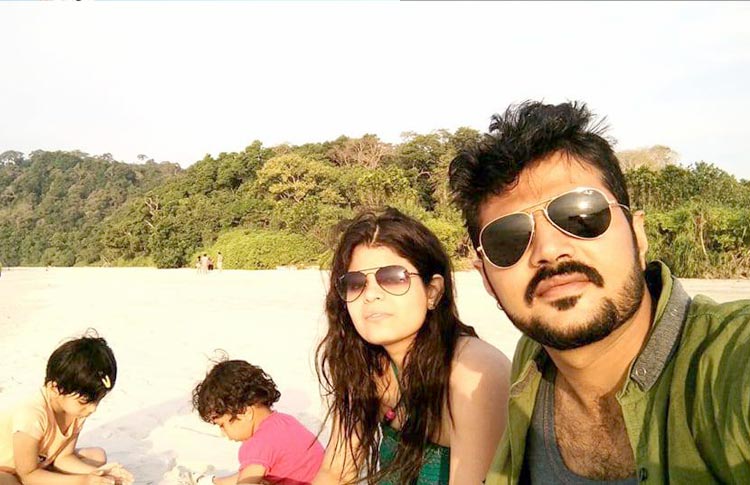 Meet Cheshta and Virendra from Jodhpur and their two adorable little ones – Charvi & Akira.
The couple is famous for planning frequent vacations, and no, they don't leave their daughters behind with a babysitter while doing so. 

Most present-day parents plan no holidays at all thinking they have no time. Others think that taking kids along can prove to be a hectic task. 

However, what I love about Cheshta and Virendra is that they don't consider their girls an obstacle to the adventures they decide to take up. As far as I know, the younger one is a bit naughty and loves throwing tantrums often and still, the Choudhary couple doesn't mind packing her inside the suitcase.
One look at their FB timeline and you'll see pictures from at least one vacation per month. Recently, they went to the Andaman Islands and boy, is the family looking stunningly happy?!

Virendra said, "We got married at a young age and had our first child comparatively early. We never wanted a monotonous lifestyle where we would merely sit idle at home or go to our respective workplaces like robots every day. Traveling soon became our rescue. Of course, leaving the babies behind was never an option for us. You know, small kids like to enjoy the sight of their parents all the freaking time, and if the otherwise happens, they can quickly turn cranky."

Cheshta added, "Though we have to have at least two holidays annually apart from the hometown visits, we never make quick plans. So far, only our tours across Rajasthan have been frequent as compared to the station visits."
So, how do they decide which place to go to next?

Cheshta answered, "We mostly Google new locations based on the recommendations we get from friends. We make sure the hotel we're staying at has enough playing space for the kids and that it provides varieties of food. You know how kids are, right?"

Virendra joked, "And if everything fails, use this parenting tip – before leaving the house, always fill your bag with plenty of eatables. From cakes to cold-pressed juices and candies, one can find the whole refrigerator in our travel bags."

Another thing about Mom Cheshta that caught my attention was her travel-dress-sense. I absolutely like mothers who don't let motherhood or other new responsibilities suppress their femininity/sexuality. With beautiful hair-dos and DIY clothing, Cheshta looked every bit of a stunner posing by the beachside. Have a look!

She said, "Since I had almost no time to go shopping, I quickly bought a few halter-neck tops and two pairs of hot pants. To change my looks, I wrapped scarves around me to make the top appear more stylish."

Definitely, traveling with your partner can be rewarding in many ways. As this couple puts it, "Fighting on an island is far better than sitting in your living room and throwing the remote control at one another. Ha-ha! The highs and the lows are a part of every relationship, why not make all of it worth remembering through traveling?"
Was this article empowering?