Thursday, August 05 2021, 05:58:07
Charu Of India's 1st Cat Cafe Tells Us Why She Has Started Loving All Things Broken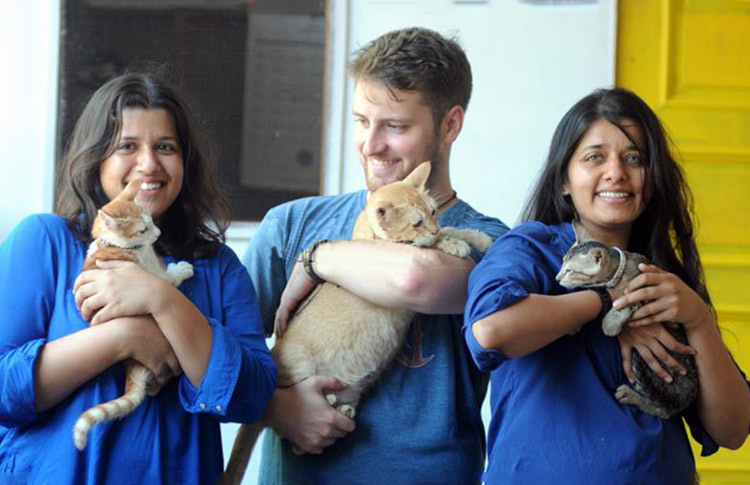 Imagine a cute little fur ball jumping around you, trying to come and sleep in your lap or be your company when there's no one around to share that delicious pie with you?
Well, with the advent of pet cafes, you can experience this beautiful feeling quite easily these days. Also, as pet owners, you don't have to feel any guiltier for leaving your fur kid behind when going out for a coffee. Take them to a pet-friendly café and let them have the time of their lives as you enjoy with your friends too.
Speaking to one such café owner, Cat Cafe Studio, the first in India that houses cats (and dogs) and lets its visitors happily lounge in the company of their rescued babies was nothing short than delightful.
In a telephonic conversation with Mumbai-based Charu Khosla, Co-founder of the Café, she gave us a sneak peak in her happy furry life:
Indian Women Blog: Describe your café in 3 words?
Charu Khosla: May I use four?
Yes, of course!
So it would be our mission statement: Rescue, Care, Love, Adopt.

Indian Women Blog: How does a real cat fight look?
Charu Khosla: Generally, people tend to get confused between two cats playing and two cats fighting. Talking about a cat fight, it generally happens between two stray alpha males and that I must say is a hardcore fight! They make really loud noises, show some postural signs, and end up doing a lot of damage to each other.
Indian Women Blog: Share with us your most favorite cat-human story till date.
Charu Khosla: There was a completely paralyzed cat called Salem who was rescued by an NGO and later, was brought to the Cat Café. He was about 6 months old. Since he was young and paralyzed, taking utmost care was a real responsibility for us. Every single team member of the café looked after him. We ensured at all times that he had his diaper on and that his food and water are kept near him. We also constructed a four wheel walker for him to make his life easier.
However, we are very glad that he later got adopted in a beautiful house in Bangalore with three dogs to his company.

Indian Women Blog: When did you first get the idea of opening Cat Café Studio?
Charu Khosla: My sister Mridul, her partner Jason, and I were into rescuing cats and dogs since the inception of our creative agency called Zcyphher. Initially, we used to rescue the animals and bring to our house. Then when our space started getting exhausted, we started accommodating them in the office. Though we were constantly trying to get our rescues adopted through our immediate friends and family circle, it wasn't enough.
That's when we realized that we needed a place for people to come, relax, and spread more and more awareness about cats and explore their adoption opportunities.
Though we decided to monetize our work, it was and never will be a profit-making business. We only want to make money so that we can do justice in providing the best vet care to our pets.
This is how the Cat Café Studio was born with an idea to get more and more cats adopted into loving homes!

Indian Women Blog: Do you have a vet on the site?
Charu Khosla: We do not have a vet in the Café, but we have a tie up with a vet who has been the doctor for all my cats for the last five years. He understands my space, my limitations, and does a brilliant job with the cats. However, in addition to him, we are also getting more vets to visit the Café and see how we operate.
Indian Women Blog: Do you allow dogs in the Café?
Charu Khosla: Oh yes, of course! But, we have two separate spaces. One is where the cats are housed in an indoor space, and the other is the open area for dogs.
Indian Women Blog: How do you train people to interact with cats?
Charu Khosla: We have some standard house rules that visitors are made aware before they begin to interact with the cats. All the guests need to sanitize their hands before petting any cat. They are not allowed to wake up a sleeping cat. They are also refrained from picking up cats forcibly or pull their tails, whiskers, etc. No outside food (human or feline) is to be fed to the cats, as their diet is imperative to us.
Other rules include no flash photography, loud noises, or disturbing the cats when they are eating. If a child wants to interact with a cat, he/she needs to be accompanied by an adult.

Indian Women Blog: Share with us your most emotional rescue story?
Charu Khosla: Ohh I have loads of them. The distance between my house and my office is hardly two minutes. Once while coming to office, I saw a kitten dragging herself to cross the road. Her entire body from the back was crushed, and it was disgusting to see people looking at her but not coming ahead for help. I parked my bike, took a rickshaw, and took the little one to the vet. She was not even a month old. It was the most miserable rescue I had carried out. I couldn't dare to imagine the excruciating pain she was going through. I have never been so close to someone as I was to her in that short span of time.

Indian Women Blog: One life lesson you have learned from cats?
Charu Khosla: Cats are extremely brave, and they have an amazing endurance. I have learned that animals are the most innocent creatures ever born and this feeling has gradually made me dislike humans. They have shown me how evil humans are.
Indian Women Blog: What inspires you to name the cats in your cafe?
Charu Khosla: *laughs* We generally look at the cats and see what name suits them the best. All of us sit together and have a sort of a war over names. We end up in such heated arguments because everyone wants their names to be chosen. Believe me, it has become an activity for us now!
Indian Women Blog: What was the funniest question people asked about your cats?
Charu Khosla: Again lots of them! One person asked if I come to your Café, I hope the cats won't attack me and hurt my eyes with their paws! Another one was when a person visited the Café and refused to enter seeing a black cat. I mean, I wonder when all these stupid myths will break. I have had a black cat, and it has been nothing but lucky for me!

Indian Women Blog: What makes up to the menu at your cafe?
We serve varieties of coffees, teas (hot and cold), a variety of beverages including milkshakes, sandwiches, cakes, muffins, bagels etc. We also serve popsicles at the moment. We have a wide range of cakes, cookies, and muffins along with sandwiches.
Indian Women Blog: What is the biggest cat-astrophe that the cats have caused in the café?
Charu Khosla: Haha! We have a cat called Klin who jumped and sat on a visitor's bag and pissed. Otherwise, there are constantly things breaking around us, and now we have stopped bothering. Breaking objects have become a part of our lifestyle. With cats around, people tend to become less materialistic.
Thanks to my cats, I genuinely don't own anything nice today!
LOL!
So I would like to introduce you to Poppy, our Dogger-in-chief. Since she holds such an eminent position in our office, she would like to ask the cats a few questions.

Dogger-in-chief: Why cats don't like dogs?
Charu Khosla: *giggles* Hi, Poppy. Well, I don't think all cats dislike dogs and vice versa. Moreover, I think a lot of liking and disliking between the two depends on the way they have been raised around each other. I have raised puppies, and they have been extremely sweet and loving around the cats. Both the cats and dogs are domesticated animals.
Don't believe me, Poppy?
Come over to our Café, and we'll make you meet our cats who would love you!
Dogger-in-chief: One thing dogs can learn from cats?
Charu Khosla: Umm, that's interesting. Well, dogs can learn how to be independent, from the cats. Cats are much like humans who require their space whereas dogs don't. They like to be pampered instead.
Dogger-in-chief: They say curiosity kills the cat- Tell us what your cats are curious about?
Charu Khosla: Haha. Jisne bhi ye bola hai bohot sahi bola hai! My cats are curious about anything that they can't have. If a door is closed, they would do anything to get it opened. Being so curious they fail to realize that they, sometimes, put themselves in immense danger because of this.
Was this article empowering?