Tuesday, June 15 2021, 05:26:20
Celebrated Sculptor Kanaka Murthy Shares How She Made Her Way Into The Male-Dominated Field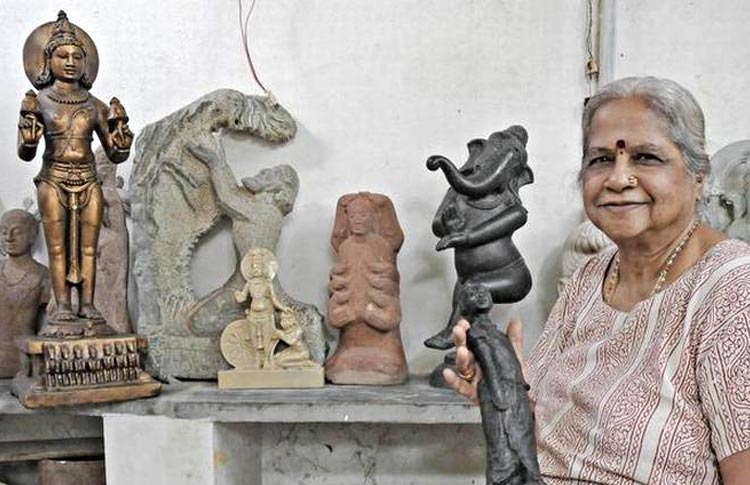 Towards the end of the day, I found the perfect quote by the famous sculptor, Kanaka Murthy. Murthy guides, "Always do what you are good at. Society and people will intervene, but if you are determined nothing is unconquerable."
Murthy says this as she has followed this all her life. Being born into a conservative Brahmin family, Murthy faced difficulties in convincing her parents for getting into the sculpting profession. Now living in Bengaluru, she grew up in the town of T Narsipur.
However, her parents were easier to convince than the people who continuously questioned her choice of the profession due to her gender. "People refused to believe in my talent since sculpting had always been a male enterprise," Murthy shared.
But Murthy loved stones. She loved arts. And she was sure to follow her passion. Murthy said, "I graduated in science but felt there was nothing I could do with that degree. I was always inclined towards the arts, listening to music and poetry, and this led the way to my decision in taking up sculpting as a profession."
Speaking of her love for stones, she said, "The stone inspires me. Once when visiting a temple in Mysuru, I saw the stone sculptures of deities there. That fascinated me. I kept going back to the place almost every day just to see those beautiful sculptures."
Murthy, along with her grit and determination, walked on the path of taking forward her love for stones and sculpting. There were struggles, hardships, hurdles, but when a person is honest towards their passion, it's easy to find a way out. During her struggling days, she received immense help and guidance from the late Devalakunda Vadiraj, who was her teacher and mentor.
Later on, she travelled with him across the country and to many foreign countries, including the UK and Russia, and participated in various sculpting events. She learned techniques of sculpting, dedication, and honesty from him.
Kanaka is now one of the most celebrated sculptors in India. Her works are primarily based on Indian mythology. While her sculptures of women have sturdy features, her Ganesha idols exhibit childlike simplicity and credulity. She took inspiration from various periods, including Chalukyan and Hoysala, and combined them to create a fresh style of her own.
In stone, Kanaka works with red stone, white stone, and soap stone. She prefers to use traditional tools and techniques. Apart from stone, the sculptor has also worked with fibre glass and clay.
"I started with clay modelling and then slowly moved on to sculpting. For portrait making I use fibre glass," she explains. "I make the tools or choose suitable ones based on what model I will be sculpting," she says, adding, "It is the tools that, when used carefully, help in carving the best from a stone."
There is nothing else that attracts and satisfies her soul more than the art of sculpting. She explains, "I am not interested in learning anything other than sculpting. Not English, not technology, nothing."
Kanaka's notable works include the poet, playwright, novelist and critic Kuvempu's bust at Lalbagh West Gate; the Wright Brothers' statue at the Visvesvaraya Industrial and Technological Museum, Bengaluru; busts of Hindustani classical vocalists such as Gangubai Hangal, Mallikajun Mansur and Pandit Bhimsen Joshi in other public places.
Kanaka has been presented with the Karnataka Jakanachari Award, State Shilpakala Academy Award, the Rajyotsava Award and Suvarna Karnataka Award. She has also written two books – Shilpa Rekha and a memoir titled Howde? Idu Naane. 
"She is my friend, philosopher, and guide. It was she who asked me to document my experiences," says Murthy as she shares how her daughter is her inspiration.
"My health does not permit it anymore. I cannot sit on the floor. But I am guiding my student and training him. I am trying to pass on all that I have learnt from my guru," shares Murthy when asked about her future artworks.
H/T: The News Minute
Was this article empowering?