Saturday, September 26 2020, 01:35:52
Breaking Norms & Bending Traditions, Designer Jayeta Rohilla Holds India's Diversity Close To Heart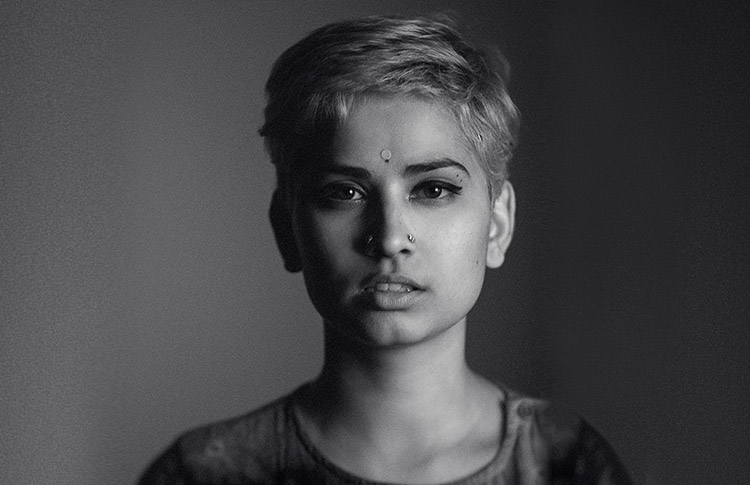 Coming from an IKEA family, Delhi-based apparel designer Jayeta Rohilla has travelled across the world – Sweden, Bangladesh, and China to name a few places. Countries changed but what remained static was her longing for India.
And so, when she came back to India, the beauty, the diversity, the colours, the chaos of India is what she wanted to sew into her apparel brand मैं (Mae), which translates to 'I' in English.
Mae is a combination of an individual's colour, honesty, and beauty in one body, just like India's. All in all, one person wearing its different avatars altogether. Clearly, unity in diversity is the creative motto for the Haryana girl's brand. But that's not her only motto. Breaking stereotypes and smashing the patriarchy is another.
On a call with the patriotic young designer, Jayeta introduced us to today's mixed generation – who holds immense love for the country but also believes in breaking the age-old traditions that are holding us back.
Read excerpts from our fun conversation:
Firstly, become our tour guide of India through your wardrobe. 
So, I wear my own clothes. I wear मैं. So, the introduction will be through my ghunghat hoodie.
Speaking of which, tell us about the interesting item from your range. What was the idea behind it?
Growing up in Haryana, I have seen women covering their heads and faces with ghunghat since childhood. I frankly never understood the concept. And, I think it's a conservative idea. Now, I understand it's difficult to eradicate a tradition which has been there for so long. So, inspired by it the collection was born. It was to bring in the ghungat in a new light.
97 Likes, 10 Comments – मैं (hindi: i am) (@maepeople) on Instagram: "Peek-a-boo from our ALL PINK GUNGHAT HOOD, it's Christmas soon, let's do some good! ❄️❄️Our fresh…"
131 Likes, 2 Comments – मैं (hindi: i am) (@maepeople) on Instagram: "Valentine or no Valentine, it's the time for offers! Have you tried the offer yet!? ✨✨Use Code:…"
Also, I wanted to bring equality through it. Why should only a woman wear ghunghat? Even a man should, right? With a little rebellion, reimagination, rediscovery, and reinvention, the Ghunghat Hoodie came into existence.
We'll call it a revolution! Your collections are named Bharat, Bindi, and more such names. What is the story behind the names? 
The collection names have a connection with an element of India. Like the collection Mitti was named after the song Ye Jo Desh Hai Mera from the movie Swades. I was listening to the song and got inspired. Another collection Bharat has items inspired by actress Sridevi's Hawa Hawai song and it also consists of a Padosan hoodie.
Coming to capturing India's diversity, you created a video about two years ago which featured different looks from different states of India. Of those 18 looks, which one resonated the most with you?
Sometimes when you are surrounded by variety and diversity you get immune to it, this video appreciates and acknowledges the proud heritage of women of India. Photography and co-editor: Chetana Kotak WhatsApp: 09818009962 http://graphifiers.weebly.com/work.html Makeup, concept, model and co-editor : Jayeta Rohilla https://www.facebook.com/JayetaRohill… Music: Roop Tera Mastana (REMIX)
Umm. That's tricky. I think I resonated most with the first look – the Himachal Pradesh one. The look, however, is opposite to my style. I am visually Over The Top, loud visually. As a person, I connected with its simplicity and peace.
All of us though hold a stereotype about each state, the local tradition. Did you, too? And, did any of those stereotypes break during the making of the video? 
Actually, yes. I thought Assam and West Bengal's culture to be similar but figured out they were quite different. Also, living in the North, we don't know so much about the South. My mind opened up during the making of the video.
I also figured out how a lot of states hold diversity in their looks. For example, while creating the look for Arunachal Pradesh, we had to create two looks.
Another thing we found amazing was your choice of models. Tell us more about this. 
We don't get shoots done on professional models. We like to work with people with real aesthetics. We're ok with any size, ok with whatever you are. We love to work with people who are comfortable with their personalities. These are the kind of women we like to reflect.
162 Likes, 3 Comments – मैं (hindi: i am) (@maepeople) on Instagram: "HUM = US We are a mix gen, a little bit of east with the west 💪🏽💪🏽💪🏽 #linkinbio ✨✨ SERIES: SPARK…"
That's amazing, Jayeta! Do you think the entertainment world should celebrate more diversity too?
I think more than fashion, Bollywood should. It should stop making body shaming remarks, songs that objectify women, and totally change the way they show flirting. Stalking and whistling have to stop.
I completely agree. Have you received any criticism? How do you respond to it?
I haven't received criticism for anything in regard to religion. But the collection Ghunghat did receive a mixed response. While a few liked it, a few hated it. They questioned the mixing of ghunghat with a hoodie. I am open to criticism. It's a free world.
Moving forward, which is your fashion travel destination in India?
Northeast India is very fashionable. I think Shillong's fashion culture is high-street and quite updated.
Tell us about the places you source fabrics from. Pretty diverse?
Oh, absolutely. I source from various places like Rajasthan, Banares, Kerala, Kashmir.
We saw a super adorable post where you shared how you turned granny-gifted gloves into a fashion statement with embellishments. A peek into this super cute relationship, please.
97 Likes, 3 Comments – मैं (hindi: i am) (@maepeople) on Instagram: "Dadi got us gloves and we bling-ed them up! ✨✨✨ ❄️❄️DADI GLOVES❄️❄️👉👉👉👉👉👉👉for another…"
I'd have to say that five years ago when I started my brand, my Nani and Dadi were two strong pillars. And both of them are two different individuals – Nani likes to dress up with a pouf and bun while my Dadi is a stricter one.
As we wrap up, tell us about the other contradicting things that you love to do together?
We believe in wearing different earrings/non-coordinated bangles at the same time. Just because you have two ears and arms, doesn't mean you've got to wear the same or opposite of what we're taught as a child.
First published on Apr 21, 2018.
Was this article empowering?