Thursday, August 05 2021, 06:34:16
Blogger Avantika Slays The World Business Dialogue With Her Girl Squad In Germany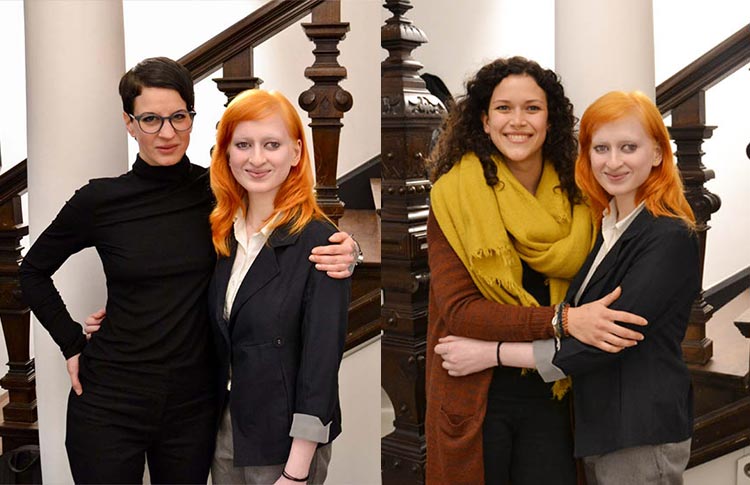 An important lesson that I learned while in Cologne was that if my phone showed the temperature to be 9 degree C, then it really was that damn cold outside. It was so frosty that all my formal, knee length dresses screamed in frustration.
And since I did not want to get hypothermia, I settled on wearing a blazer and pants on the second day of WBD (World Business Dialogue). The very same day, I attended the Co-Creation Day Workshop which was organized by the HUS Institute for a group of 25 international students.
I was to be the reporter for the Digital Citizenship workshop. It is a concept which dictates the norms of appropriate, responsible technology use.
Being a silent spy who watched everything, I noted important things and playfully glared at people who made terrible jokes.
Lucas from Vienna kickstarted by asking my friend, Saad if he was "SAAAAAAAAD". Pff!
On arriving, we were greeted by our workshop leader, Mr. Christopher Peterka. He is a futurist, entrepreneur and founder of HUS. He showed us something that I had never really seen.

It was his very own smart ID Card as an e-resident of Estonia. It is the first country to ever offer an e-residency. This card provides digital identification to secure services, digital signing of documents. The card also makes it possible to register a company online, perform e-banking transactions and access international payment service providers!
Upon seeing the card, the 'nerds' in us rejoiced. Though, we didn't know what awaited us.
We were asked to make a Digital Citizenship product for the Principality of Liechtenstein by huddling together in groups of three or four. So, I stuck with the Sacred Girl Code and paired with Daniela and Paula from Paraguay! Girl Power all the way.

We decided on developing a card that would hold ALL your information, from biometrics to passport details. We saw this as an efficient and vital commodity for the average human being. It's important to note in the picture below that while we are seen discussing unique innovations, I am also thinking about a pizza dripping with cheese.
Just kidding. Or not.
Later, we were asked to choose a Sustainable Development Goal that would link to our invention. I was waiting for the light-bulb on my head to be switched on.

If you don't take naps in a break after a lecture, then I don't trust you. This is why when we were given a break I snuck a nap or two. No pictorial evidence, sorry!
Daniela and Paula would start speaking in Spanish and their conversation proved as a lullaby to me. I liked the rapidness of the language so much that I might just enroll in a language class from next month. *winks*
Paula later delivered a pitch about initiating a website for students who had just finished college and were looking for a job that would match their acumen and skill set.
During dinner on the first day of the workshop, Nina Anne Pahnke, a change maker, introduced me to all the other delegates as the only reporter in the conference. Yayy!

Nina was super cool! She would constantly ask me if everything was okay,  she also gave me a break from the workshop and also free rein to roam around the coding space. She was very welcoming, kind, and appreciative.
She also shared an experience that showed the prevalence of sexism in Germany,
"A year ago, I had shaved my head to see if people would treat me differently.  And yes, they did."
Apart from Nina, I got really close to Regina Elizabeth from Switzerland. She participated as a photographer and also contributed to managing the workshop.

She was generous enough to snap some artsy shots of me and she also taught me how to AirDrop pictures on my iPhone.
Next on our schedule was going to Staple Bar to party and relax! I was already loosening up, and the nap had me all fresh and happy!
It was dark, it was new, it was fun.
Was this article empowering?