Tuesday, January 25 2022, 08:24:14
Base-Recherche's Sonal Arora Teaches The JWB Clan The Know-Hows Of DIY Gift Packaging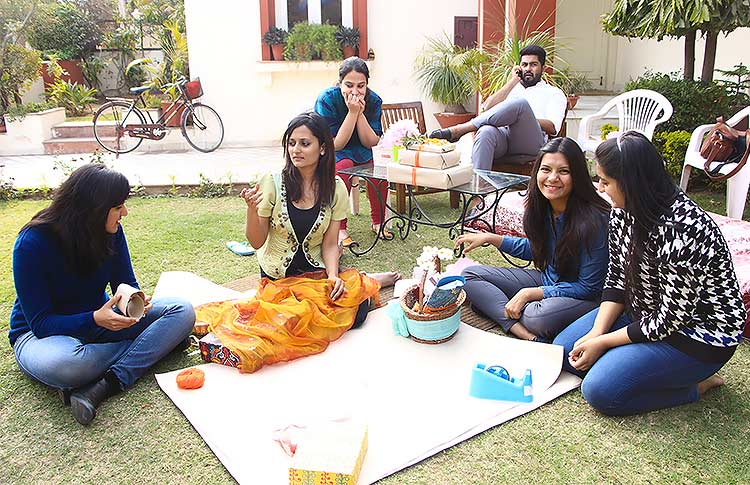 A day full of mischief! It is one of those days when we tend to release all the tensions off our shoulders and leave our workspaces to get a breath of fresh air! It's the adventures of 'JWB Weekends'!
Jaipur is an emerging boon for creative minds, and that's because people are now happily experimenting with wedding décor, packaging, office parties, baby showers (this one's especially catching up).

We met Sonal Arora, who though comes from a finance background, is a proud CEO of her creative business Base – Recherche. Sonal allowed us to take a sneak peek into her world of creative packaging. From what I've heard, the packaging is no piece of cake. Heck, we've tried a hand or two with it and ended up tearing the pieces up.

So as we were welcomed to the nest of the beautiful couple Shaleen and Sonal Arora, they probably didn't know we intended to wreck their home down. They had already organized the DIY materials neatly out in their garden. Sonal had hung 'pom-poms' on a tree, Ayushi stole them away with the blink of an eye, and I wanted to do some experiment on them with my favourite Mirchi lights.

Ayushi ran up to the counter where Sonal had arranged her gift packaging accessories and enquired about each one of them. There were tiny metal-made models of Ferris Wheels (for baby showers), macaroon stands, corporate packaging, and more.

Jayati and Lavanya had seated themselves on the mattress that was set up for us. It looked like a perfect barbeque set up, except that there was no barbeque. 'Scuse me while I come back to my senses from sniffing a distant aroma of the grilled chicken.
I like kadhai chicken, too. Just saying.

Lavanya decided to photobomb a picture that Ayushi was happily posing for. Tsk. Sorry bro.

Sonal settled next to us, and we listened to her like attentive school students. The only ones mischievous were Jayati and Lavanya. We're otherwise an attentive bunch, Miss Sonal!


She was teaching us how to make pom-poms! She'd already tied a stack of tissue papers together and zig-zagged them to make it easy for us to work with.
The couple guided us on how to separate the tissues and make them into pom-poms.
*Sound of paper tearing*

Lavanya: Oi Ma, my paper is torn!
Ayushi: My paper is torn a little, too. But I'd never use oi ma to describe the feeling.

Jayati and I were silent because we were trying to steal away from their glances. Y'know, Nazar lag gayi toh?

Sonal: You have to open up the leaves opposite sides, like a ball!
Alas! Too late! Ayushi had already made a flower out of it.

I don't know why Shaleen thought that I'd be the next one to screw up another one of his beloved wife's pom-poms, but he quickly came and showed me what I was doing wrong.

Jayati: You can't cheat! Been that way since school, haven't we?
Me: Forgetting the Pink Card for screwing up with the art file, are we?

Jayati smirked at me, and Shaleen (known as Cherry at home) continued showing me how it was really supposed to be done.
We had all forgotten that the pom-poms were to be used as a decoration over the gifts, and started using them as handballs and hair accessories! Tsk, girls. A big frigging TSK!
Sonal figured out that we were hopeless, so she decided to give packing a try. She showed us how to pack gifts with materials that can be found lying around in the house. No more running to the 'gift-shop' for a last minute shiny paper purchase.
Brown paper.
Jayati: The same paper that we used to cover our textbooks with?
Lavanya: Of course, I loved covering my textbooks, and oh, the smell!
Sonal was packing a particular beautiful box with brown paper when Lavanya prompted.
Lavanya: What's all that sound? What does the box have?!
She flung it open to show us its contents. It contained a collection of organic stuff. Organic honey, potpourri, green and lemon tea, lemongrass incense sticks, and more.

Me: What are these?
Sonal: When we made these boxes…

Lavanya: Wait, you make boxes, too?
Sonal: Yes! We have a small manufacturing unit in Sitapura. I design the handmade sheets, as well.
Jayati: Wow! No wonder these designs are so unique and different.
Sonal smiled and continued packing the box with the brown paper. Afterwards, she randomly wrapped a brightly colored wool around it. She tied the yarn from the middle and gave it a rustic look. Impressed, we all watched, and some of us took the task upon ourselves.

Sonal showed us various other forms of packaging, too. I loved how she'd half-packed a Chanel perfume, the logo could be clearly seen. She had also done the same for a shirt that was peeping from its packing. It looked subtle and classy. 

Sanchit tried his hand on fabric packaging. Sonal says that fabric packaging works best with objects that are shapeless. Out of curiosity, I prompted.


Me: How did it all begin?

Sonal: I was a Banker, and I hated the monotony. I always knew there was a creative side to me that had been waiting to come out. When I decided that I wanted to pursue it, my parents and in-laws were both equally supportive of my decision. And, Shaleen is like a 'Cherry' on top (Pun intended)


Jayati: I can't wait to get married!
All in chorus: We know!
Me: What was your first assignment?

Sonal: So, a friend knew this hidden talent and asked me to do her trousseau packing. Well, she liked it so much, that it spread as a word of mouth and the rest is history! 
Ayushi couldn't help admiring the handmade sheet prints and Sonal finally told us how she designed them on CAD (Computer-Aided Design).
Jayati: If only I could draw! Sigh. How can someone contact you for their wedding packaging?

Sonal: I have my Facebook page called Base- Recherche. I've also posted my designs and work samples there, so there you go!

We got to keep the tissue made pom-poms and bring them back to work. They make the barren wall board look prettier!

Photo Courtesy
Sanchit Sethi

Was this article empowering?