Thursday, December 09 2021, 07:44:48
AMLA BATRA: she does not play dolls anymore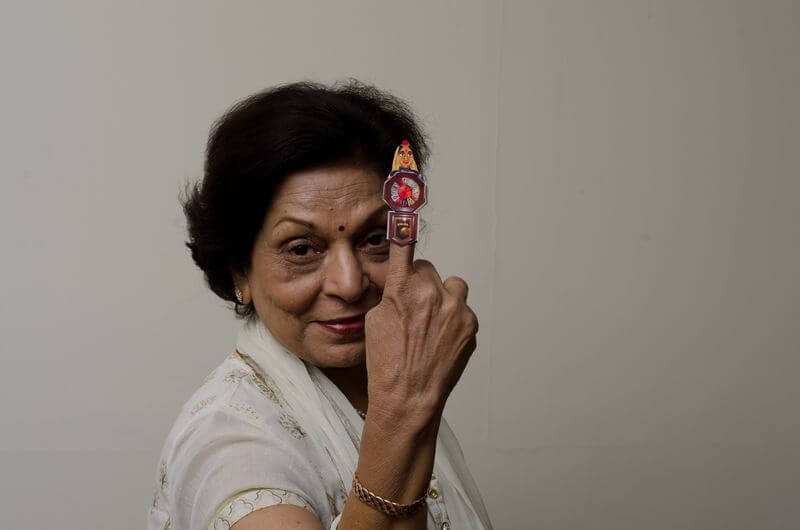 Vivacious Amla Batra, Ex Principal of Maharani College, the former Head of Department, Botany, Rajasthan University, also a writer & a research scientist, proved this campaign to be the SHElection as a whole.

She entered Nayaab Jewels (the active supporter of this campaign) showroom trailing the aroma of the spring and vibrancy, and with the question "What I am supposed to do now?" made us act with the same vibe in response. We invited her for a light make-up session. Mrs. Amla, galanting a gesture towards a make-up artist, said: "You might have a magic brush! Cover up all these wrinkles!"


While laughing in between of the easy-going conversation, we have picked a Nayaab ring from the new collection. It couldn't be anything else! These sparkling petals reflected the effervescent nature of Mrs. Amla.

By that time, the make-up part had been completed, we started the photo session. Mrs. Amla adorned the Watch Puppet upon her index finger of the right hand, while admiring Nayaab floral ring on the left hand. The watch was a symbol that Mrs. Amla used to visualize 49% of women voters in India.

And when we asked her about women with the power of 49, and how responsible this share is for the election of new government? She said: "It is obvious that the psychology of a man & a woman differ from each other but today's woman has also gained a versatile image. She very well knows how to handle every issue whether it is related to finance or family. She has come out of the shell by removing her image of 'Home-maker'. While balancing the emotions & sacrifices at one side, she has been capable enough to hold other responsibilities as well. 49% share in voting surely gives me happiness but it'll add more if it becomes 50, equal to men!" (She smiles with the spring liveliness).
While thrilling the room with the energetic picture-perfect postures, she was playing with her Watch Puppet. With every tick-tock, with every new click of our photographer, her message "Watch the watch!" was spreading around and reaching each woman of Jaipur. And we asked Mrs. Amla well-timed what was the topmost issue to put in the election agenda?
"I want the gap between villages & cities to be minimised," she replied sincerely and with poise.

Waltzing around the room and making our photographer hustle to catch her pace, she stopped for a moment to reply one playful question in very serious way.
What question you would ask if you met the prime minister? "It has been approximately 60 years for our country to be independent but still 70% of Indians are struggling at the grass root level. So, how will you improve the country?" her answer was.
With this answer we saw her deep concern about the people in our country. We continued the serious tone with the next question.
JWB: What problem in your city you want to be resolved this election?
Amla: (With a relaxing sigh & positive gestures she prepares to put her desires in front). There should be more jobs for youth. Reservation should come to an end & last but not the least BPLs should be helped by the government irrespective of caste.

It is time to make Nayaab floral ring to gain limelight and discover its secret. We asked Mrs. Amla to imitate with her left hand a standing tall tree as a symbol of the wise connection between the Nature and a Woman. She obliges us with a beautiful posture of the tree with blooming sparkling flower. Suddenly, following her imagination, she started moving fingers in a way to emulate the breeze playing between leaves. We felt we could hear its whisper. And how to make a woman's voice heard?

Mrs. Amla replied: "She will certainly be heard if she has meaningful substance, confident, expression and communication skills."
We continued asking: And what is the level of individual independence a woman achieves in her decision to vote?
Mrs. Amla: 40-45% in the urban sectors, and it is still 5-10% in rural segment.
JWB: Being a multi-tasker and a great home manager, what home management lesson women can teach candidates for running the country?
Mrs. Amla:  I believe a woman is a power pack unit who is very firm & never leaves the ground. She has multidisciplinary virtues with less politics which can help a government to grow well. Men should be learnt the soft-heartedness & the well conduction of the women to deal with the matters in a very respective manner.
Our heroine was sitting in the chair, portraying gracefully a woman, wilful and confident.

JWB: Rajasthan is being ruled by women as the Mayor, the Governor and the Chief Minister. Do you see any changes in lives of our women next door?
Mrs. AMLA:  For all of us they are great inspirations; every lady develops confidence seeing them running the show.  Their jobs are challenging, difficult yet attractive and many women dream big after seeing them and would strive and work hard to achieve their dreams too.
JWB: We live in Democracy but women live in authoritarian state. What is real definition of freedom of women according to you?
Amla: Women should be allowed to pursue her dreams without any domination or restrictions but can be given suggestions. She should have her own space.
Read about Shelection Campaign.
We thank Mr. Vinod Singh Gusain for catching every intimidating moment in his lenses. Visit his page to see the photography art.
Was this article empowering?