Wednesday, September 27 2023, 11:45:34
Activist Dinesh Gautam Explains Why He Chooses To NOT Help The Underprivileged Financially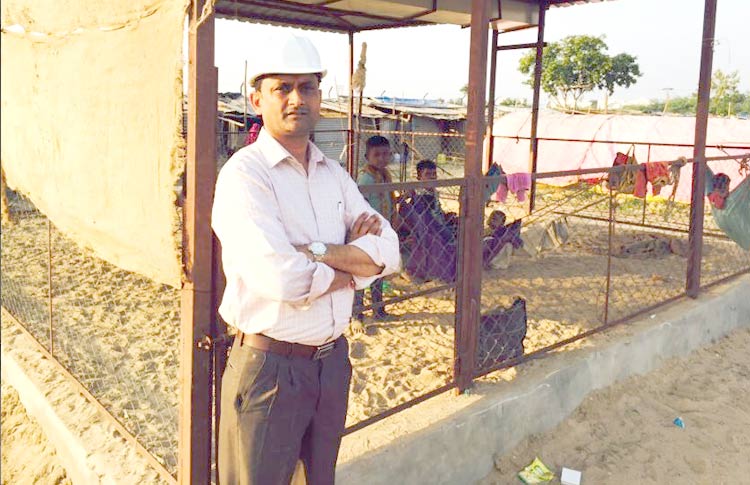 "Of course, one can do great work for the society. However, a greater contribution would be to integrate more people in your cause, directly, so they can see the plight of the underprivileged and take the initiative forward on an individual level."
Dinesh Kumar Gautam, the founder Drishti Foundation Trust, works for the underprivileged section of our society and has introduced a broader perspective.
Born in Gubana village in Haryana, Dinesh himself had faced a lot of financial difficulties while growing up. Having shifted to Delhi's Najafgarh area for his further studies, Dinesh recalls the days when his dad had to refuse him for the computer course as he couldn't afford the fees.
"Computers have just come into existence and I, too, like a million others wanted to learn this new machine. However, the fees were very high and my dad couldn't afford it. Sometimes, things pinch you so much that you decide never to go back down that lane. Somehow, I decided that I would never learn computer," he tells me over the phone.
Later, Dinesh went on to study Journalism and obtained a diploma in the field from National Institute of Mass Communication, Delhi. Taking a job in a Hindi newspaper with the head office in Gurgaon, he paid frequent visits to the rural areas of Rajasthan.   

"I visited many places in the Mewat district of the state like Alwar and Bharatpur, and it was there that I realized the lack of proper education, especially, for the girl child."
In 1999, Dinesh started a school in Alwar and to manage its smooth operations, he even shifted his resident nearby.
"With the support of the Panchayati Raj in the village, I undertook many educational initiatives for the empowerment of children in the village."
However, as his personal life responsibilities grew and he got married, Dinesh switched his job and started working in a corporate sector. In 2004, the school had to be shut down.
"I took this decision with a heavy heart as I had to fulfill my familial responsibilities, too. However between the years, 2004 & 2011, I undertook co-curricular activities for the slum kids in Delhi and also worked on various other initiatives," he confides in me.

"However, as I shifted to Ahmedabad, Gujarat, in 2011, I decided to take forward my work in a structured way," adds Dinesh. Hence, Drishti Foundation Trust was born.
"I kept the name of my foundation on my daughter's name to show to the world that daughters' are a family's pride and not a burden. There's a saying, "Bhagwan betiya unhi ko deta hai, jinki haisiyat ho, unhe sambhalne ki." But, I was blessed with a girl child before, and only then I got the success," he says and I could hear the pride in his voice.
Today, Drishti Foundation Trust runs two schools, one in the Jawahar Camp slum area, Delhi, and other in Vatva slum.

"In Ahmedabad school,  we have classes from nursery to senior secondary and apart from academics and co-curricular, we also focus on personality development and skill training," says Dinesh.
"You see, Jayati, many of the underprivileged get the education, but, they are not taught the etiquettes, the mannerisms, and other personality traits, needed to get a decent job. Therefore, even when the opportunities are available to them, they fail to utilize it. So, we organize various personality development and image consultancy workshops for these kids," he explains.
Drishti Foundation Trust is also extensively working towards providing dental health care to the underprovided society. When I ask Dinesh as to why he specifically chose Dental, he replies, "You cannot fathom the severity of dental problems people of all ages are facing in rural areas of Rajasthan. My first dental check-up camp was in 2015, in Harshauli in Dudu district of Rajasthan and I was shocked to see the dental issues the adults and kids were facing. The fluoride content in the water they consume is so high that it is posing threat to all age groups and due to the highly expensive dental checkup and treatments, they have no choice but to suffer."

He further tells me that in rural areas, on an average, there's just one dentist for one lac people. Even the medical insurance doesn't cover dental care expenses, he adds further.
"This motivated me to undertake this cause and we have been aggressively conducting free dental check-ups and care camps in five states, namely, Ahmedabad, Rajasthan, Delhi, Haryana, and Uttarakhand."
Dinesh further reveals how his camp in Gurgaon for the Government colleagues highlighted another major issue.

"These were the people who even had access to dental checkups which is covered by the Government. Yet the poor dental health and the increase of oral cancer patients amongst the industrial labor was alarming and depicted the lack of awareness on their part."
Through his NGO, Dinesh then set up a dental clinic in Gurgaon for the patients who couldn't afford the treatment in private hospitals.

"You'll be stunned to know that the space for our clinic is in the Govt. hospital. So, it's not that the Government doesn't have a proper infrastructure. The issue is the dedication of the people appointed to carry out the work in the Government spaces."
"We just asked them for their space and all the other things we are managing on our own. And, one has to see the quality of treatment and dental care that we are providing at the facility. Our focus is on preventive care rather than curing the disease and we are working on it through extensive awareness campaigns."
Dinesh also opens up on the importance of bringing the community together to contribute to the social work.

"Drishti Foundation Trust does not have any employees, only volunteers. Also, we do not believe in cash donations. Instead, we are just bridging the gap between the donor and the needy. There are so many Governmental schemes for the underprivileged and almost every company has a set budget for its CSR activities. However, they are not being directed in the right direction and that's exactly what I am doing. Even for the CSR activities of the companies, I insist employee engagement so that they can see the ground reality which motivates them to take a social cause on an individual level."
"Similarly, we do not help the underprivileged monetarily. If you give them the money then it's like you have cut their motivation and urge. For example, there were these two girls, who were exceptionally good in academics. However, they came from very difficult backgrounds and had no financial support from their families. So, we arranged a part-time job for them. Now, they both work at a Pizza joint after their studies and earn 7k each," elucidates Dinesh.
Drishti Foundation Trust has set many milestones, be it in education, dental healthcare, or overall development of the underprovided. Mobishala is one such initiative by Dinesh that is still close to his heart.
"The idea of Mobishala came during the demonetization time. We all know that the biggest impact of note-ban was on the poor and illiterate section of the society. They didn't have the cash nor were they equipped to use technology for trade," he explains.
Thus, they started training them on how to use their mobiles for monetary transactions. Dinesh tells me that this initiative is still continuing in rural areas of Ahmedabad and Gurgaon.
Discussing the family's involvement in his work, Dinesh happily says, "There are times that I am short on cash and my children ask for a thing and I have to tell them that I'll get it with my next month's salary. They never complain about it and that's the biggest thing. My wife and my kids understand what I'm doing and why I'm doing and fully back me up."
Reminiscing over one such memory, he tells me, "I still remember that one day, after returning from her skating lesson, Drishti saw a few street kids playing with tires. Next day, she went with her mom and distributed the toys which were given by Hypercity collective for a campaign."
Dinesh also reels in his biggest inspiration and says, "My role model is Sardar Vallabhbhai Patel. Imagine, bringing together, so many languages, so many different thoughts, in what we know as states of India, he's truly the father of the Republic of India. He, too, brought together the difference of opinions and filled in the gaps they had to give one name. I, too, aspire to serve as the link between the people who wish to help and people who need help."
P.S. If you wish to donate to Drishti Foundation Trust (in Kind, as preferred by the founder), or would like to volunteer for them, contact them through their website, here.
You may Paytm also, by scanning the bar code, below:

Was this article empowering?