Tuesday, June 15 2021, 06:42:09
9 Amazing Facts About Architect Zaha Hadid You Need To Google Doodle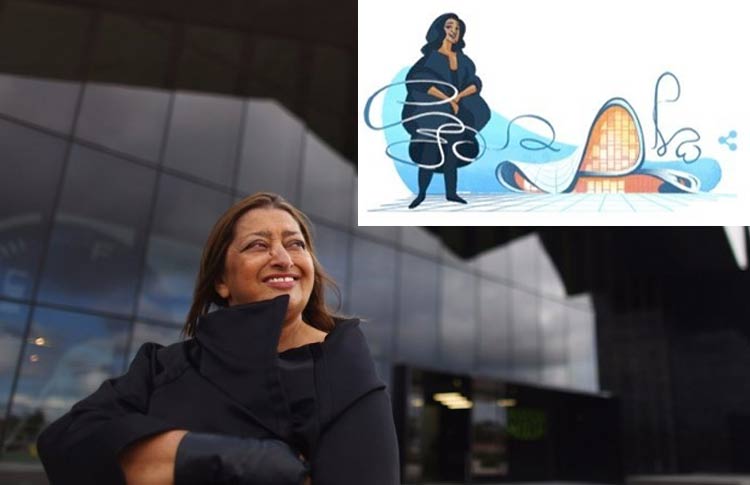 A pioneering architect who reimagined architecture and gave the world a new perspective on how buildings can be shaped and built, she is Dame Zaha Hadid. The true artist who reflected her life, emotions, through the buildings she created. Buildings that will stand on for centuries, depicting the courage of a woman who didn't follow the straight line, quite literally!
Zaha Hadid died unexpectedly of a heart attack, last year on March 31. Google celebrated the magnificent life of Hadid and paid tribute to her with this Doodle:

Here're some lesser known facts about Zaha Hadid's life:
#1
Though Zaha had lived abroad most of her life, she was born in Baghdad, Iraq, on October 31st, 1950.
#2
Her interest in building spaces dated back to her childhood. Hadid had designed her bedroom as a child and it became so popular that everyone wanted their bedroom to be like hers.  "Everyone liked my bedroom, so the carpenter made it for everybody. It was a mass-produced bedroom."
#3
In 1972, she moved to London to study architecture and even after being appreciated for her inventive style, Hadid didn't complete her first architectural project until she was 44 years old. Many thought her unique style was unworkable until Vitra, a furniture manufacturer, commissioned The Fire Station, her first building, in Weil am Rhein, Germany.

#4
During her prolific career, she designed more than 30 buildings across four different continents.
#5
Hadid had won many awards in her twenty years of being in the business. However, a few of them were milestones in their own sense.
Hadid became the youngest and the first woman to win the Pritzker Architecture Prize back in 2004. She was also the first woman to win the Royal Gold Medal in Architecture from the Royal Institute of British Architects. Zaha also won the UK's most prestigious architectural prize, the Stirling Award.
#6
Zaha was committed to her career. She never married and had no children. Zaha's net worth includes stock investments, property holdings, a football team, a brand of Vodka, the perfume and fashion line.
#7
Other than buildings, Zaha Hadid also had a fancy for designing shoes. And, guess what? Taylor Swift wore Zaha Hadid-designed shoes in her "Bad Blood" video.
#8
Throughout her life, Hadid spoke openly about the misogyny and racism she encountered as a woman of color working in the world of architecture. In the matter, where she had won the international competition to come up with the designs for the Cardiff Bay Opera House, the Government had refused to pay for the project in the face of opposition from a handful of local politicians. Zaha Hadid had then also suggested that the resistance may have been linked to her ethnic background as well as her gender.
#9
After the sudden death of Hadid in 2016, many of her proposed and under constructed designs were left unfinished. The list included the 2022 FIFA World Cup Al Wakrah Stadium in Doha and the Salerno Maritime Terminal in Salerno, Italy.
Was this article empowering?